Event Detail
Back to Events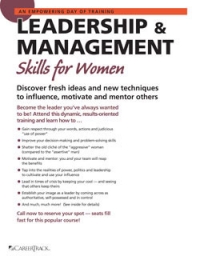 Other :: Leadership also Legal & HR :: Professional Development
Leadership & Management Skills for Women
9:00 AM
Heritage Inn
Description:

1 Day Seminar
9:00 am - 4:00 pm
Check in at 8:30 am
$249/Person
$229 for groups of 3 or more
Overview
Become the leader you've always wanted to be.
Think of the leaders you admire — both men and women. Great leaders are able to see all sides of an issue, stay calm in the midst of chaos and easily defuse conflicts. Adept at championing their causes, they are charismatic public speakers, persuasive communicators and empathetic listeners. To top it off, they usually possess strong organizational and delegation skills.
Great leaders bring out the best in others because they know how to build trust, encourage confidence and command respect. Most important, however, is the ability of great leaders to inspire others to want to follow their initiatives, adapt their ideas and perform above and beyond their own capabilities on a regular basis. How can you become a more powerful, effective and respected leader?
Leadership with a woman's touch …
This seminar will empower you, inspire you, and boost your confidence as a leader. Through real-world case studies, eye-opening exercises, and spirited discussion, you will learn how to bring out the best in your people, and lead from a position of firmness, fairness, and quiet strength.
Discover the areas where women traditionally lack power as leaders, and learn how to overcome common obstacles to success
Take a look at how women leaders at today's top corporations make the most of their influence and visibility
See how you can become the type of leader who inspires loyalty, deep commitment, and exceptional achievement
True leaders are able to accomplish their goals and make a difference in the world even as they stay true to their personal values, ethics, and beliefs. Join us for this empowering, exciting day of training … and come away with a renewed sense of optimism, a firmer commitment to yourself and your career, and the practical knowledge to make it all happen.
Agenda
- Determining Your Leadership "IQ" — How Much Do You Really Know?
- Discovering Your Leadership Style — It's as Individual as You Are!
- Positioning Yourself as a Powerful, Effective Leader
- Strengthening Your Personal Leadership Style
- Developing the High-Impact Communication Skills Every Leader Must Have
- Leading Your Team Successfully
- Planning and Organizing — Essential Leadership Tools
Advertisement
Age Group: All Ages

Venue:
Heritage Inn
Visit Venue Page
Address:
1700 Fox Farm Rd, Great Falls, MT 59404
Get Directions
Phone: N/A