Event Detail
Back to Events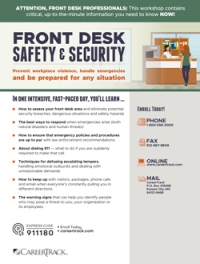 Legal & HR :: Talent Management also Legal & HR :: Professional Development
Front Desk Safety & Security
9:00 AM
Big Horn Resort
Description:

1 Day Seminar
9:00 am - 4:00 pm
Check in at 8:30 am
$149/Person
$139 for groups of 5 or more
Overview
Workplace violence couldn't happen at your organization ... or could it?
Workplace violence can strike anywhere, anytime. It doesn't matter if your company is a small mom-and-pop business or a large corporation. It doesn't matter if you're in Middle America or on the East or West Coast. And it doesn't matter what type of business you work for.
In these times of turbulence and unrest, safety and security issues on the home front and in the workplace are more critical than ever before. Terrorist threats, mass corporate layoffs, a depressed economy and political upheaval are all real factors contributing to stress and emotional anguish in the workplace.
As people feel pushed to the breaking point, workplace violence becomes more of a reality. Employees need procedures and policies in place to follow in case of emergency, and - just as important - the training and confidence to put those policies into action should the need arise.
As a front desk professional, you are the first line of defense against security breaches, safety concerns and volatile situations
Your role as a front desk professional requires you to wear a variety of hats during your work day - among them gatekeeper, communications expert, phone whiz, mediator, troubleshooter and secretary. As the first person vendors, visitors and delivery people have contact with, you are the eyes and ears of your organization. It is up to you to spot potential troublemakers, identify red flag behaviors, prevent breaches of security and act with confidence and authority when situations threaten to get out of hand.
In this powerful, eye-opening workshop, you'll discover a variety of tools, techniques and strategies for securing your front desk area and staying calm and in control when faced with emergency situations. We'll cover preparation and prevention techniques for natural disasters, theft, property damage and other crimes, offer tips for identifying potentially violent or unbalanced individuals, cover building and facility safety measures, and reveal ways to shore up weaknesses in procedures that may leave your organization and employees vulnerable to outside influences.
Agenda
- Violence and safety in the workplace today
- No-nonsense management of your front desk and lobby area
- Critical communication skills no front desk professional should be without
- When worst-case scenarios become real; handle emergencies while keeping yourself and others safe
- Security measures to increase workplace safety
Advertisement
Age Group: All Ages

Venue:
Big Horn Resort
Visit Website
Visit Venue Page
Address:
1801 Majestic Ln, Billings, MT 59102
Get Directions
Phone: (406) 839-9300